Context
Video ASL :

Accessible communications such as public government announcements, television and radio news, emergency announcements, etc. are, in usually transmitted, for various reasons, in written or oral form.
Recognized as a reference organization for the defence of the rights of Deaf and hard of hearing people, ReQIS wants to promote communicative accessibility as a strategy for universal accessibility in order to reduce the barriers faced by deaf and hard of hearing people in the exercise of their citizenship.
It is therefore important to identify the issues surrounding communication in sign language as it is the keystone of communicative accessibility for deaf and hard of hearing people.
Why: For the communicative accessibility and inclusion of Deaf and hard of hearing people.
Who: For Deaf and hard of hearing people.
How: Through an in-depth study to identify issues related to communication practices in sign language.
Objectives
Video ASL:

This research will provide scientific recommendation on which we can build to continue to advance the cause through our collective advocacy work.More specifically, the objectives of the project are to:
Plus précisément, les objectifs du projet sont de :
Document and analyze standards, policies and practices for accessible sign language communications in Canada and internationally.
Identify issues related to accessible sign language communications.
Analyze and test models and practices to determine which ones provide optimal communicative accessibility for Deaf and hard of hearing Canadians.
Make concrete recommendations for accessible sign language communication standards.
Acknowledgements
Video ASL:

In order to carry out such a mission, ReQIS will work closely with the CBLS (CB Linguistics Services), the Research Group on LSQ and ASL and Deaf Bilingualism at the Université du Québec à Montréal (UQAM) and several partners.
We would like to thank the Government of Canada through the Accessibility Standards Canada program as well as all our partners for the realization of this project.
Presentation of the exploratory study of communications practices accessible by video
https://drive.google.com/file/d/1Z2war0fSdJNXCUTZQvXFbN1QQCouRTVr/view?usp=sharing
Please click on the image to enlarge or download PDF
Literature Review on Accessible Communication in Sign Language
https://drive.google.com/file/d/1xECX9ZQJHfEIe6RnD3ivE-x12y-YPgZH/view?usp=sharing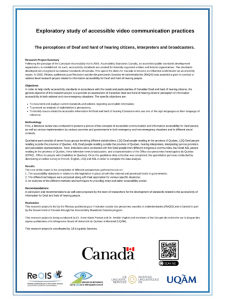 Please click on the image to enlarge or download PDF
Videos
Section 1 – ASL Literature review on accessible communication in sign language: https://www.youtube.com/watch?v=2HVJonKnC0c
Section 1.1 – ASL Literature review on accessible communication in sign language: https://youtu.be/OOiMgmnQptg
Section 1.2 – ASL Literature review on accessible communication in sign language: https://youtu.be/-2OmZ8ui2SA
Section 2 – ASL Literature review on accessible communication in sign language: https://youtu.be/aJKd0mVF5LQ
Section 2.1 – ASL Literature review on accessible communication in sign language: https://youtu.be/wq7bKshfd0Y
Section 2.2 – ASL Literature review on accessible communication in sign language: https://youtu.be/DhXMa3YqR3o
Section 2.3 – ASL Literature review on accessible communication in sign language: https://youtu.be/atCeDL78fV0
Section 2.4 – ASL Literature review on accessible communication in sign language: https://youtu.be/Li5rKmuwtNg
Section 3 – ASL Literature review on accessible communication in sign language:
Section 4 and 4.1 – ASL Literature review on accessible communication in sign language: https://youtu.be/voitmd-mcdw
Section 4.2 – ASL Literature review on accessible communication in sign language: https://youtu.be/09r9YGyovmM
Section 5 – ASL Literature review on accessible communication in sign language: https://youtu.be/dUo0qf0VVeI
Footnote p.11 – ASL Literature review on accessible communication in sign language: https://youtu.be/ITIsWHVxpmY
Research Report on Perceptions of Deaf and Hard of Hearing Citizens, Performers and Presenters
( IMAGE + un lien d'un document de rapport final en anglais )
Please click on the image to enlarge or download PDF
Vidéos
1. Preamble
1. Preamble: https://youtu.be/Kznln9riZVw
1.1 Accessibility: https://youtu.be/lCyp4wVk5QM
1.2 Representation of groups: https://youtu.be/u2yuqvOP6hY
1.3 Analysis of perceptions on accessible information: https://youtu.be/aUxnMs2JDD8
1.3.1 The analysis method: https://youtu.be/poGZRukqm00
1.3.2 The Tools: https://youtu.be/bvVkj_Hggzw
2. Status of the situation
2. Status of the situation: https://youtu.be/ylmeEYUOlLE
2.1 The legislation: https://youtu.be/vn6QAVP4AW4
2.1.1 The situation in Quebec: https://youtu.be/1FhxJvDRHJs
2.1.2 Technical standards: https://youtu.be/fZ80c9MDP-s
2.2 Ways to contribute to accessibility: https://youtu.be/xs7YrkkJ1gM
2.2.1 The use of the written word and subtitling: https://youtu.be/KjOeSzNLkMg
2.2.2 Professionals providing access to information: https://youtu.be/d62bid78knI
2.2.3 Integration of sign language: https://youtu.be/RlifNFUUC0w
2.2.4 Video Relay Service VRS: https://youtu.be/ET_0xApA0ws
2.2.5 The avatars: https://youtu.be/ruJpkI0OfVo
3. Views of Deaf people
3. Views of deaf and hard of hearing people: https://youtu.be/uoZqSUQZE4Q
3.1 Full Access: https://youtu.be/Or9zyDSxb04
3.1.1 Full access to sign languages: https://youtu.be/hNsgzFnpZY0
3.1.2 Full access to subtitles: https://youtu.be/94rAENShcC4
3.1.3 Full access to diversity: https://youtu.be/6MZBlT1aoBY
3.1.4 Full automatic access: https://youtu.be/uenwR_GDQRU
3.1.5 Customized control: https://youtu.be/treDQm1cpZI
3.1.6 Full access to the Internet: https://youtu.be/4rLiWAsfZT8
3.1.7 Full access to radio: https://youtu.be/js5iUbpRQYY
3.2 Parameters technical and 3.2.1 Position of Interpreter: https://youtu.be/g9RGYm2RjF0
3.2.2 Proportion of visual information areas: https://youtu.be/80lV8egHOPk
3.2.3 Visibility color and clothing: https://youtu.be/Dqi–wNluKs
3.2.4 Subtitles and contextual information: https://youtu.be/-a5iWTnRYDM
3.3 The choice of interpreter: https://youtu.be/Ooe1DF6yWxY
3.3.1 Deaf interpreters: https://youtu.be/a8eowV2jT18
3.3.2 The avatars: https://youtu.be/3gFpQDuusKg
3.4 Accessibility Roles, Monitoring and Resources: https://youtu.be/LotXJBy486Q
3.4.1 Role and follow-up: https://youtu.be/kGtNTe2klF8
3.4.2 Centralization and visibility of resources: https://youtu.be/vufBF_iLFNg
3.4.3 Awareness: https://youtu.be/YHIT6gSLyHs
3.5 Barriers to universal access – 3.5.1 Access to information in a minority language: https://youtu.be/v6fDiRe9WJI
3.5.2 Access to leisure activities: https://youtu.be/HWSFn6VumD4
3.5.3 Access to news: https://youtu.be/lZ90L8oBcKE
3.5.4 Access to civil liabilities: https://youtu.be/DU_Q9TsOnMU
3.5.5 Access to transportation: https://youtu.be/kLJbWiQYjKQ
3.5.6 Access to government services: https://youtu.be/dNBdZi6pnpo
3.6 Emergency protocol in a crisis situation: https://youtu.be/zzFbC1OC81M
3.6.1 Responsibility for the implementation and application of the emergency protocol: https://youtu.be/Lc0as_q1Mec
3.6.2 Register of accredited interpreters: https://youtu.be/ZU0kaOiknzA
3.6.3 Registry of Deaf Citizens: https://youtu.be/mjnMVcmyfRU
3.6.4 Power outage: https://youtu.be/uLObWMTZUVc
3.7 The good practices: https://youtu.be/bWdz1aNwJIg
3.8 Training: https://youtu.be/dfbpfYx5t0Q
3.8.9 Qualifications: https://youtu.be/IkXcE7MIO_Q
3.10 The features – 3.10.1 The hard of hearing: https://youtu.be/MoMJXaac7zY
3.10.2 Indigenous Deaf people: https://youtu.be/LLQuvEQyYtI
4. Views of interpreters and service providers
4. Views of interpreters and service providers: https://youtu.be/9CZCSIykDDA
4.1 Obstructing a access – 4.1.1 Access to culture: https://youtu.be/TB2QmU7fa70
4.1.2 Access to the written word: https://youtu.be/GlsETs7Iiyc
4.1.3 Awareness: https://youtu.be/ZMm6Wt9axk0
4.2 The choice of the interpreter – 4.2.1 Deaf interpreters: https://youtu.be/n6yOykIA7I8
4.2.2 The avatars: https://youtu.be/wXDlhWVw7pM
4.3 Best Practice Guide: https://youtu.be/AymLdgCtn_s
4.4 Emergency protocol in a crisis situation: https://youtu.be/60g8ytBfUOA
4.4.1 Responsibility for the implementation: https://youtu.be/uWohRTOOdlE
4.4.2 Register of accredited interpreters: https://youtu.be/ogkGgFNzVRs
4.4.3 Training: https://youtu.be/3QhksWBxVYo
4.4.4 Qualifications: https://youtu.be/y9hOAMPoSso
4.5 The distribution of the general topics addressed in the exchanges: https://youtu.be/UY2eakp6iA0
5. Views from broadcasters
5. Views from broadcasters: https://youtu.be/2qCuWmoyQkI
5.1 Obstructing access – 5.1.1 Media Access: https://youtu.be/aTC51aWDgJ4
5.1.2 Access to the radio: https://youtu.be/_aSCuITOY7U
5.1.3 Awareness of accessible communications: https://youtu.be/ZDGRbM_WqvA
5.2 The parameters technical – 5.2.1 The complaints: https://youtu.be/UZAxewXsCSU
5.3 Emergency protocol in a crisis situation: https://youtu.be/JZZDiuoikPU
5.3.1 Training: https://youtu.be/Br3NDbMfD4s
5.3.2 Qualifications: https://youtu.be/IR0VdOesVbg
5.4 The distribution of the general topics addressed in the exchanges: https://youtu.be/K28r_DwD7g0
6. Views from OPHQ
6. Views from OPHQ – 6.1 Full access automatic: https://youtu.be/n99QbrwUq9Q
6.1.1 Challenges in implementing the recommendations: https://youtu.be/qtkse6FjIUg
6.1.2 The means deployed by the Agency to promote accessibility: https://youtu.be/37jsXYRLptM
6.1.3 Public Awareness: https://youtu.be/ebpUUEwHKpE
6.2 Opinion on access to information in sign language: https://youtu.be/EvW5GY58Wlc
6.3 Practices for hiring professionals: https://youtu.be/AJgYg4Swd80
7. Portrait statistics of perceptions of Deaf and Hard of hearing
7. Portrait statistics of perceptions of deaf and hard of hearing Canadians: https://youtu.be/Z792rF6T0cc
7.1 Demographic profile of respondents: https://youtu.be/GVf-bGMPT90
7.2 Linguistic portrait of the respondents: https://youtu.be/WpAOf01KN_Y
7.2.1 Deaf people: https://youtu.be/R4wlegofoyA
7.2.2 The hard of hearing: https://youtu.be/AhqcB8onbfQ
7.3 Full access in the areas of life social: https://youtu.be/16T1-Pg58Eg
7.3.1 Full access to news: https://youtu.be/aUZSb-0C1eE
7.3.2 Full access to health care: https://youtu.be/GYr8_elwQSA
7.3.3 Full access in the field of transport: https://youtu.be/EQub9utkK-M
7.3.4 Full access to information for participation in civic life – 7.3.4.1 Public services no-emergency situations: https://youtu.be/4EFlnhNX0Sw
7.3.4.2 Civil Liabilities – Elections: https://youtu.be/I5zeVZQTvek
7.3.5 Government websites: https://youtu.be/RoKItRyKXHg
7.4 The parameters technical – 7.4.1 The subtitles: https://youtu.be/1R7h0xnv0o0
7.4.2 The interpreter's placement: https://youtu.be/bVCNIV_NBsU
7.4.3 The background color: https://youtu.be/keAIy5VML8s
7.4.4 Speed and size control: https://youtu.be/dj5uI9Yedv8
7.4.5 Trust and satisfaction with video information: https://youtu.be/JAHbeK9ViHU
7.4.6 The choice of the interpreter: https://youtu.be/1rFuRaBbyRw
7.5 Emergency and crisis situations, and evacuations – 7.5.1 Access to information in emergency situations: https://youtu.be/V2Yn17On6ao
7.5.2 Access to information in crisis situation: https://youtu.be/6PiMCPSK1zI
7.5.3 Access to information in an evacuation situation: https://youtu.be/s1w6p6_tcGs
7.5.4 Access to information during pandemic: https://youtu.be/GmeanB1fV58
7.6 Training and qualification: https://youtu.be/YOQ5IgnOgvo
8. Conclusion
8. Conclusion: Issues related to access to information: https://youtu.be/VdUA6QqiWXk
8.1 The full access : https://youtu.be/vLUO6RqGsPM
8.2 Parameters technical: https://youtu.be/vrKTLlwYSZo
8.2.1 Subtitles and interpretation settings: https://youtu.be/Jp-NG4vAPA8
8.2.2 The choice of the interpreter: https://youtu.be/c9mub-6L9pg
8.3 Role and follow-up: https://youtu.be/Y1HXxkt02YI
8.4 Awareness: https://youtu.be/05aSnk_sU5s
8.5 Emergency and crisis situations, and evacuations: https://youtu.be/12DgED05RbE
8.6 Training and qualification: https://youtu.be/mKCjtoSWiG4
Recommendations for the development of standards on communicational accessibility by video
https://drive.google.com/file/d/1iB3KYbBTLsVwJd-aL-k1i4ywXPNLe0OG/view?usp=sharing
Please click on the image above to see the recommendations